A critical stack-based Buffer Overflow vulnerability has been discovered in SonicWall VPNs.
When exploited, it allows unauthenticated remote attackers to execute arbitrary code on the impacted devices.

Tracked as CVE-2020-5135, the vulnerability impacts multiple versions of SonicOS ran by hundreds of thousands of active VPNs.
Craig Young of Tripwire Vulnerability and Exposure Research Team (VERT) and Nikita Abramov of Positive Technologies have been credited with discovering and reporting the vulnerability.
Shodan lists over 800,000 devices
Given an increase in employees working remotely and the reliance on corporate VPNs, easily exploitable flaws like these are concerning when it comes to security.
As confirmed by Tenable researchers and observed by BleepingComputer, as of today, Shodan shows over 800,000 VPN devices running vulnerable SonicOS software versions, depending on the search term used.
Although a Proof-of-Concept (POC) exploit is not yet available in the wild, the vast attack surface available to adversaries means companies should upgrade their devices immediately.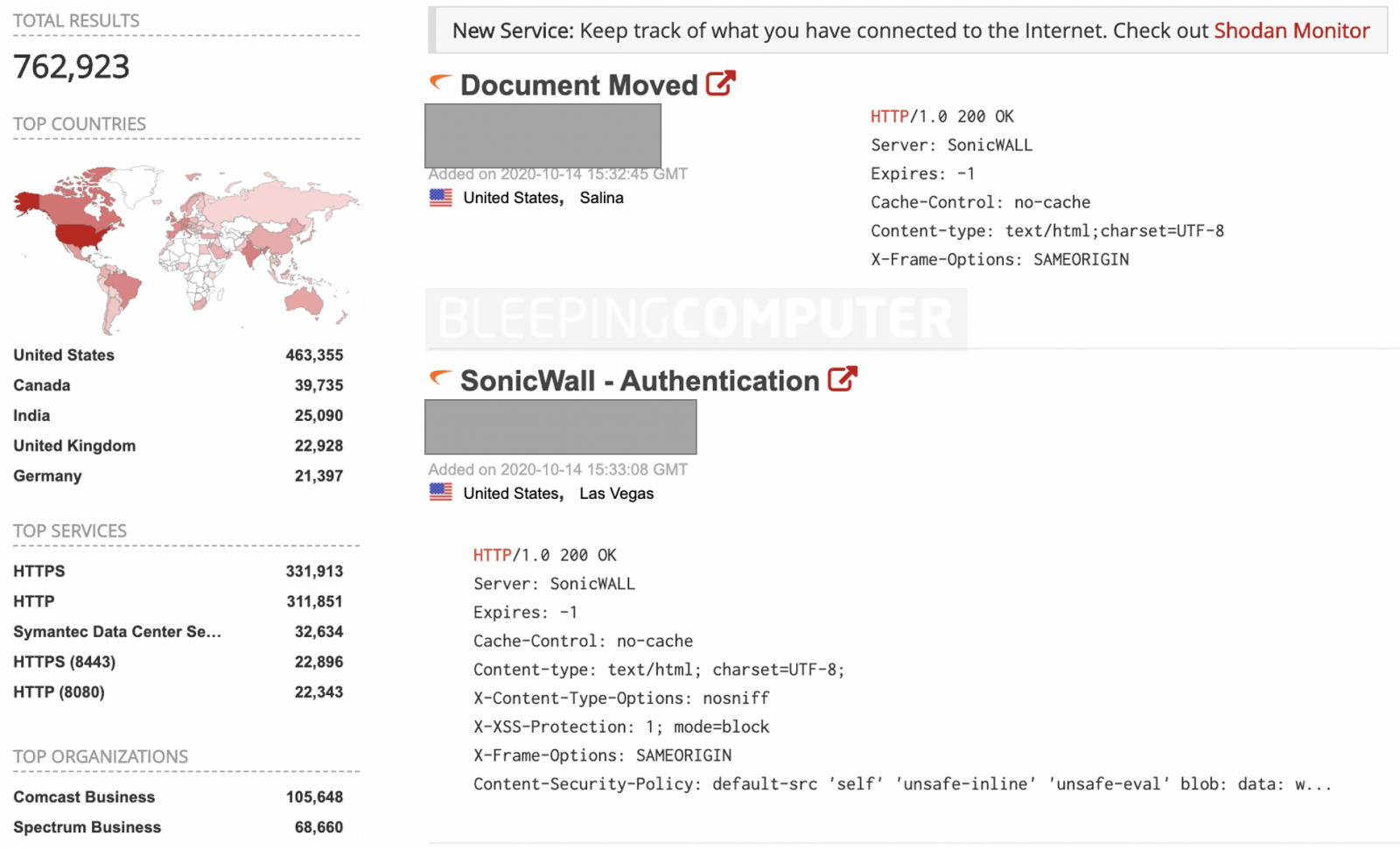 Impacted versions and remediation guidance
The following SonicWall VPN devices are impacted by CVE-2020-5135:
SonicOS 6.5.4.7-79n and earlier
SonicOS 6.5.1.11-4n and earlier
SonicOS 6.0.5.3-93o and earlier
SonicOSv 6.5.4.4-44v-21-794 and earlier
SonicOS 7.0.0.0-1
"SonicWall has released updates to remediate this flaw. SSL VPN portals may be disconnected from the Internet as a temporary mitigation before the patch is applied," stated Tripwire VERT's advisory.
The following versions are available to upgrade to for safeguarding against this vulnerability:
SonicOS 6.5.4.7-83n
SonicOS 6.5.1.12-1n
SonicOS 6.0.5.3-94o
SonicOS 6.5.4.v-21s-987
Gen 7 7.0.0.0-2 and onwards
Provided the vast number of devices that are still running the outdated SonicOS versions and the critical nature of this vulnerability, complete research findings on CVE-2020-5135 are expected to be released once enough users have patched their systems.

Source :
https://www.bleepingcomputer.com/news/security/critical-sonicwall-vulnerability-affects-800k-firewalls-patch-now/