Securing your hybrid multi-cloud environment just got easier. We are excited to announce Palo Alto Networks VM-Series Virtual Next-Generation Firewalls (NGFWs) are now available on Nutanix Cloud Clusters (NC2)™ for Microsoft Azure with Nutanix Flow Virtual Networking™.
NC2 on Azure leverages a new bare metal-as-a-service (BMaaS) offering, which is jointly engineered by Nutanix® and Microsoft® teams for cloud-like infrastructure consumption without the need to purchase more hardware up-front. It leverages the power of the hybrid cloud to extend workloads to Azure seamlessly from on-premises. NC2 provides a consistent experience to provision and manage Nutanix clusters on-premises or deployed in Azure, enabling workload mobility across clouds.
During last month's Microsoft Ignite, Nutanix announced the availability of NC2 on Microsoft Azure to easily extend on-premises data and workloads to Azure, creating a true hybrid cloud. With Palo Alto Networks VM-Series virtual firewall insertion, you can secure your Nutanix AHV workloads on overlay networks deployed using VPCs (virtual private clouds) within Flow Virtual Networking. Nutanix AHV provides a modern, secure virtualization platform for all your virtual machines (VM) and container workloads without additional licensing or investment on Nutanix hyperconverged infrastructure (HCI).
Simplify Multi-Cloud Security with VM-Series Virtual NGFWs
With VM-Series virtual firewalls, your Nutanix AHV workloads will have advanced security features that deliver the required application layer of security for total coverage. Leverage network security and visibility across your hybrid cloud – both on-premises and on Microsoft Azure – without complex reconfiguration. With this validation, you can gain consistent security and visibility across your hybrid cloud environment.
You can find the perfect balance of security, speed and value through the advanced Cloud-Delivered Security Services available with the VM-Series Virtual Firewall. Get simple security for public clouds, private clouds and on-premises data for total coverage and protection from known and unknown threats.
Palo Alto Networks VM-Series Virtual Firewalls are monitored, configured and managed by Palo Alto Networks Panorama™ firewall management tools. With Panorama, you gain network security capabilities that provide a single pane of glass to manage security and policies while alleviating the need to jump between interfaces. You can now easily manage the security postures of their virtual environments, physical data centers and even public clouds.
Prevent Lateral Movement with Microsegmentation and Nutanix Flow Network Security™
As your virtualized and cloud environments grow, so does your attack surface. This increases the risk of bad actors gaining access to your internal network. Once attackers bypass perimeter security controls, they can move laterally across the environment in search of data to steal or hold for ransom. Because of this, it's essential to redefine your security approach to include lateral, east-west, network traffic and perimeter network security.
With Nutanix Flow Network Security, you can leverage advanced network security using microsegmentation, or managed virtual-machine-level software firewalls, to gain visibility into your workloads on your virtual networks. Even when a VM moves across segments or clouds, the risk of network threats, malware and ransomware is reduced with a unified security policy approach.
Flow Network Security is an application-centric microsegmentation solution that protects east-west traffic to your environments by allowing you to control east-west VM-to-VM traffic. It reduces the risk of threats spreading laterally across the data center and enforces a perimeter around every individual VM.
Check It Out For Yourself
In this use case, all external traffic for subnets and VMs of the VPC traverse through the VM-Series Virtual Firewall. Configured application layer (L7) security policies are enforced via the policy-based routing capability available in the Flow Virtual Networking VPC's section.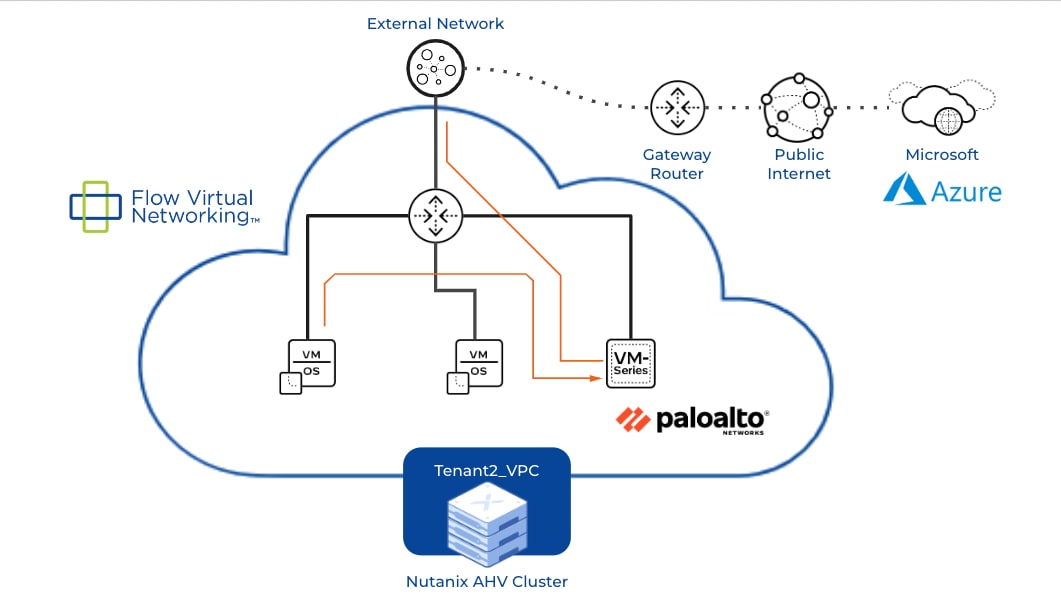 Workload mobility doesn't have to mean complex security reconfiguration. As NC2 on Microsoft Azure extends your on-premises deployments, Palo Alto Networks ensures that you have the seamless security and visibility you need to safeguard your hybrid cloud environment.
Find Out How to Do More
See how Palo Alto Networks and Nutanix work together to deliver enhanced security capabilities and integrated solutions that secure the enterprise. Learn more about our VM-Series Virtual Firewalls and other Nutanix integrations, which give customers access to next-generation security controls that stop threats before they cause damage.

Source :
https://www.paloaltonetworks.com/blog/2022/11/nutanix-cloud-clusters-for-microsoft-azure/