The Asia-Africa-Europe-1 (AAE-1) suffered a cable cut on Tuesday 7 June causing outages and network issues around the world.
The issue with the 25,000km submarine cable occurred on land in Egypt, meaning that a fix was much faster than if it had broken at the bottom of the ocean. Most services were restored after four hours, but latency issues persisted for some providers.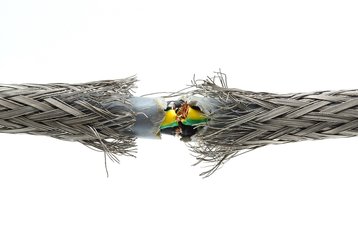 The telecoms consortium-owned AAE-1 starts in Hong Kong, traveling west via Vietnam, Malaysia, Thailand, Cambodia, Myanmar, India, Pakistan, Oman, UAE, Qatar, Yemen, Djibouti, Saudi Arabia, Egypt, Greece, and Italy, before terminating in France.
It has 100Gbps transmission technology, with a minimum design capacity of 40Tbps.
Following the cut, Cloudflare Radar, the Internet trends division of Cloudflare, reported traffic dropping in Ethiopia, Somalia, and Tanzania. Network monitoring company Kentik saw issues in East Africa, Middle East and South Asia, including Pakistan, Somalia, Djibouti, and Saudi Arabia.
Curiously, Cloudflare said that it was "also seeing concurrent drops in traffic in Pakistan, Mozambique, Kenya, and Uganda, reportedly due to an issue also impacting the SeaMeWe5 submarine cable."
The two cables are supposed to be independent.
The cable cut caused issues with Cloudflare's own system. "Full restoration is expected to be done within 6 hours. We are working to mitigate impact to Internet users in the regions of Asia Pacific, Middle East, and Africa," it said at the time.
Google Cloud's said that there was "incident affecting Hybrid Connectivity, Virtual Private Cloud (VPC), Google Cloud Networking, Cloud NAT," and reports "packet loss observed from Internet in Middle East to Google."
OVHcloud said that "partner fiber cuts" caused network backbone degradation.
Amazon Web Services and Microsoft Azure appeared to suffer some network degradation, but made no official comment. Around the time of the cut, Microsoft's LinkedIn service went briefly offline.

Source :
https://www.datacenterdynamics.com/en/news/aae-1-cable-cut-causes-widespread-outages-in-europe-east-africa-middle-east-and-south-asia/